Airlines have unadvertised sales regularly due to needing to fill seats and compete with other airlines. We search thousands of round trip flights per day to find these time-sensitive deals and share them with our subscribers.
(Available for USA and Canadian departures)
We do NOT sell airline tickets. We alert our subscribers to great international airfare sales and inform them on how to purchase tickets. Either directly with the airlines offering the sale, or through an Online Travel Agency (OTA), like Expedia, Orbitz, Kayak, Booking.com, etc...
Most of our subscribers book their flights directly with the major airlines they choose to fly on. However, some choose to book through an online travel agency to save even more money on their airline tickets.
Enter your email and follow the instructions in the welcome email you will receive from us. By following the instructions in the welcome email, it will ensure you receive all of the deals we send out.
Choose a region or some close airports (airport selection is ONLY available for CheapFlightClub Premium subscribers) to receive deals from. We suggest selecting multiple big cities near you to receive more deals.
When we find a deal that meets our strict standards, we will immediately alert our paid subscribers to deals departing from the cities they have selected. Our free members will receive a small portion of these deals.
The key to travelling cheaply is having flexibility. We suggest making a list of your top 10 destinations you wish to explore. Then, when we send out a deal for them, you will be prepared to book the flight.
If we send a deal that you like, book your flight as soon as possible, as some sales don't last very long. If possible, book with the airline directly. Then plan your vacation and enjoy your trip!
Click on the prices below to see the deal as it was sent out. All of the deals we send out are round trip.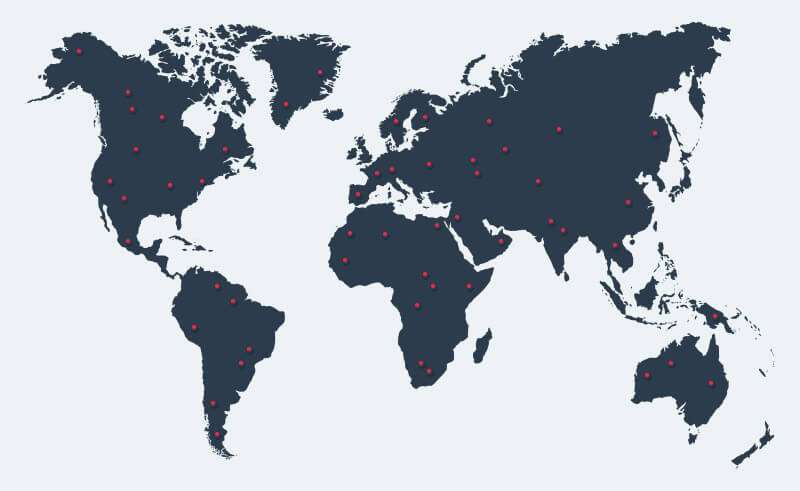 All of the Best Locations at Your Fingertips
With so many amazing places to travel, we don't limit ourselves or our customers to a single region. We inform our subscribers to the flight deals we find to in various regions. You can fly to Europe, Africa, Asia, Australia, South America, the Caribbean, and more!
All of the flight deals we publish are with major airlines (i.e. American Airlines, Delta, United, Air Canada, British Airways, Air France, KLM Royal Dutch Airlines, Lufthansa, Emirates, Japan AirLines (JAL), Cathay Pacific, AeroMexico, COPA, Avianca, LATAM etc.). The only alerts we send to our subscribers are for flights that we would actually enjoy taking. We always try to find itineraries which focus on flying and not layovers, we aim to avoid long nighttime layovers that would leave you stuck in an airport.
Please click on the questions to the expand answers
What does CheapFlightClub.com do?
Our team searches for the best international flight deals. When we find a deal that meets our strict criteria to be considered a good deal, we email it to our subscribers.
What types of fare classes can I expect?
You can expect the majority of deals to be economy or basic economy, which is a cheaper version of economy that doesn't include a checked bag or the ability to select seats. Occasionally CheapFlightClub Premium subscribers will see deals on business-class or first-class fares in an email from us.
Will these flight deals only be short-notice?
Most deals we send out allow for plenty of time to plan your trip, usually between 1-10 months. We will occasionally send out flight deals for short-notice flights, if they meet our standards.
What is a mistake fare?
A "mistake fare" is an unintentionally reduced price by either an airline or online travel agency, usually caused by a computer error, a human error, or a failure of communication. These deals are usually quite a bit cheaper than they are intended to be, for example, at the beginning of 2019, Cathay Pacific mistakenly put first class tickets normally valued around $30,000 on sale for around $1,000. Airlines are under no obligation to honor a mistake fare but generally will accept them to make sure they keep a good public image. Anytime a mistake fare is booked, it is a good practice to book directly with the airline because it is more likely to be honored by the airline. You should wait at least ten days to make any plans that are not refundable, in case the airline chooses not to honor the fare.
Can I choose my own travel dates?
Although we don't have the capability to set custom travel dates, many of the deals we send out have a wide variety of available dates, so keep an eye out for deals matching the dates you would like! If you would like to search for specific travel dates on your own, you can check out our guide:
How to Use Google Flights
.
How many deals will I get departing from my nearest airports?
This usually depends on the size and location of the airports near you. The more popular the airport, the more deals you will likely see from it. Our team searches each and every airport that is available as a CheapFlightClub Premium subscriber every day, so you can expect us to find deals from even the smallest airports you would like to fly out of.
What countries do you offer as departure locations?
Although we currently only search for deals from the United States, US territories, and Canada, we are hopeful to expand our searching soon!
How many emails will I receive?
We send out great deals as we find them, so the amount of emails we send out varies day-to-day. Our premium subscribers receive substantially more deals than our free subscribers. Our premium subscribers are also able to choose the airports which they wish to fly out of, so the deals they receive are customer specific and always relevant.
Do I have to worry about my credit or debit card information?
No need to worry at all. We use SSL encryption to secure our website and payments are processed through Stripe, a secure payment processor used by many major companies, including Google, Amazon, Uber, Lyft, Target, Spotify, Salesforce, Expedia, Zillow, Pinterest, and more.
I haven't received any emails after signing up, what gives?
Sometimes email services pick up our emails as spam or organize our emails into a separate folder. You can find instruction on how to add CheapFlightClub.com to your contacts to avoid our emails being moved into the spam folder
here
. If you are unable to resolve the issue by adding us to your contacts, please visit
here
.
Can I get a receipt?
Receipts are automatically emailed to customers upon purchase of a subscription from CheapFlightClub.com, if you did not receive a receipt, please visit
here
.
Are paid subscriptions renewals automatic?
Yes, your subscription renews based on whichever plan you signed up for. If you sign up for the 3 month subscription, it will automatically renew 3 months later, etc. You can cancel at any time.
Ready to 
Experience The World - Cheaply?